St Nicholas Ukrainian Orthodox Church, formerly known as Ukrainian Orthodox Church of Miami, welcomes you! Being one of its kind cultural and historical phenomena, our church has become the center of Ukrainian culture throughout South Florida from West Palm Beach to Key West.
YOU CAN SUPPORT UKRAINE
AND HELP THEM TO FIGHT!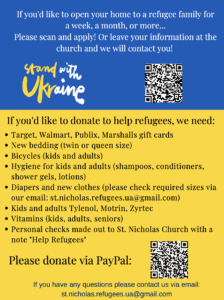 YOU CAN SEND US A CHECK
ISSUED TO
ST. NICHOLAS UKRAINIAN
ORTHODOX CHURCH
OR TRANSFER MONEY TO
BANK OF AMERICA
ACCOUNT  229051824113
OR ZELLE USING 954-680-2008
     PayPal account – St.Nicholas.ukr@gmail.com
At the moment, with your help, we have managed to buy special medical 4wd car for for the evacuation of children and other 4wd car
Now you can donate to our church using PayPal or credit card. Please use the button below to proceed.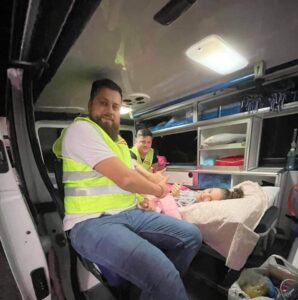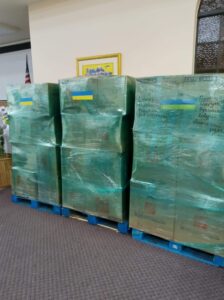 You can help us with the delivery of charitable aid to Europe
Also, we will be grateful for the help with things, we accept at – 5031 SW 100th Ave, Cooper City, FL 33328



For Military hospitals, defense and first aid:
Medical kits with individual dressings, painkillers and hemostatic drugs – https://www.amazon.com/dp/B07CG9HFSF/ref=cm_sw_r_cp_api_i_DWR900KYY9379PB3JH09
Protective military form – https://www.amazon.com/dp/B07MF1GVQ3?psc=1&ref=ppx_yo2ov_dt_b_product_details
Radiostations – https://www.amazon.com/dp/B07MXJWZ8V/ref=cm_sw_r_cp_api_i_382R5CRT1TT88K3PNHPS?_encoding=UTF8&psc=1
Helmets – 2 – 2+ class and higher 
Tactical gloves – https://inlandempiresafety.com/collections/tactical-gear
Tactical army backpacks – https://www.amazon.com/dp/B01KJMK4W2/ref=cm_sw_r_cp_api_i_78P1772N5YZN665AKQ0H?_encoding=UTF8&psc=1
Flashlight and battaries 
Sleeping bags – https://www.amazon.com/dp/B095BVFTJ9/ref=cm_sw_r_cp_api_i_45B7EG7VKE9QS61H2V7Z?_encoding=UTF8&psc=1
Food : 
MRE (Meals Ready to Eat) FOOD – https://www.amazon.com/dp/B07R4PXBQ7/ref=cm_sw_r_cp_api_i_A0A2H0DEZNVPR91VP13C
Medicines and medicines: 
Tourniquets (stop bleeding)
Antihypertensives
CELOX
Beta-blockers
Sedatives
Maintenance therapy drugs for insulin addicts
Analgesics
Antimicrobials of the general spectrum
Antiemetics
Sorbents
Hepatoprotectors
Urological
Hemostatic
Circulatory, etc.
Bandage
Powerbanks –https://www.amazon.com/dp/B09PBQPMLZ/ref=cm_sw_r_cp_api_i_K2BFSY97GVET7NPH0DPY

GOD BLESS YOU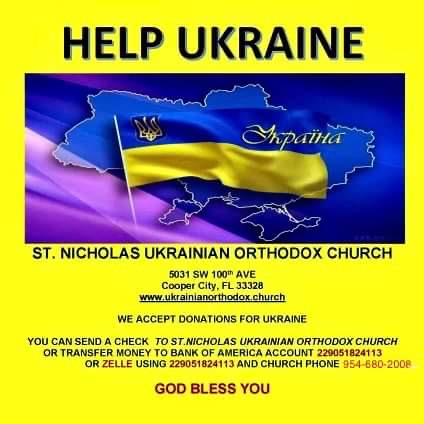 Prayer for Ukraine
Lord, Almighty God, King of all kings and Lord of all rulers! You said that not a hair of our head will fall without your will. You stop the war to the ends of the earth, break the bow, destroy the sword and burn the chariots with fire. Be our help, protection and strength, stone mountain and defense against enemies.
Do not forsake Your inheritance, called the holy name of Christ. May Your glory be magnified in the high and in the whole world, may peace and prosperity be on earth. Do not let the churches and schools, lands and nations where Your glory resides be destroyed and devastated.
Grant lasting peace and harmony to all Christian authorities and subordinates. Arm us with Your power, for with You we can destroy hordes of enemies. Dress us with Your power and allow us to be strengthened by You and the power of Your power. Amen.
YOUR DONATIONS ARE GREATLY APPRECIATED: PAYPAL OR ZELLE-954-680-2008
May God Bless you and Keep all of us safe!
With Love,
Rev. Mykhaylo Tsyupka
Church Board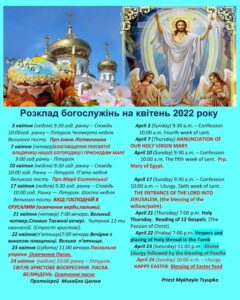 PLEASE CHECK  OUR PAGE- CHURCH ROOF 
Newsletter Subscription
Follow us on our facebook: